In 1989, Boris Becker delivered one of the most impressive performances as far as the entire edition of the Davis Cup is concerned, when he manufactured a 10-1 record (it could be even better, but he wasted a match point partnering Jelen vs. Czechoslovakia in the quarterfinal). His two best wins come from matches against players who in the late 80s seemed to be (along with Becker) the natural successors of Ivan Lendl at the pinnacle of men's tennis: Agassi & Edberg.
Two weeks after triumphing at Wimbledon for the third time, Becker [2] arrived in Munich to face the United States at the Olympia Halle (the venue of the Compaq Grand Slam Cup held in years 1990-99). Gilbert, a last-minute replacement of the injured John McEnroe, defeated Steeb in the opening rubber putting Becker under pressure against 19-year-old Agassi [7]. Even though the first three sets went to the tie-breaks on the fast surface, there were a lot of breaks – four in each of those sets. Becker came within three points of winning the opening two sets, then he raced to a seemingly decisive 4:1* (40/30) lead in the 3rd set, but Agassi struck a mishit passing-shot winner off the forehand, and soon afterwards he was serving to win the rubber at 6:5 (15-all) – Becker responded with his best tennis, taking the tie-break after a few spectacular rallies at the net. There were again four breaks of serve in the 4th set, that time the German broke his opponent thrice though, to set up a deciding set. According to Davis Cup rules at the time, any match that was still being played at midnight might have been suspended at the request of either team's coach. At midnight, the Agassi-Becker match was stopped by mutual consent. That crazy encounter was resumed at 2 p.m. on the following day, and Agassi broke for a 4:3 (30-all) lead, yet Becker took the final three games converting his second match point with a forehand return winner after 4 hours 25 minutes! Becker came back on court sixty minutes later to win the pivotal doubles. On Sunday, Steeb [17] unexpectedly beat Agassi and the tired Becker hadn't to play against the tricky Gilbert to whom Becker lost twice before.
Points won by each set: | 45-42, 43-44, 40-42, 33-22, 35-24 |
Points won directly behind the serve:
38 % Becker – 61 of 159
16 % Agassi – 35 of 211
WEST GERMANY d. USA 3-2 in Olympia Halle, Munich, West Germany: Carpet (Indoor)
Brad Gilbert (USA) d. Carl-Uwe Steeb (GER) 6-2, 2-6, 2-6, 6-4, 6-4
Boris Becker (GER) d. Andre Agassi (USA) 6-7(4), 6-7(5), 7-6(4), 6-3, 6-4
Boris Becker / Eric Jelen (GER) d. Ken Flach / Robert Seguso (USA) 3-6, 7-6(5), 6-4, 7-6(3)
Carl-Uwe Steeb (GER) d. Andre Agassi (USA) 4-6, 6-4, 6-4, 6-2
Brad Gilbert (USA) d. Patrick Kuhnen (GER) 6-4, 1-6, 6-4
===========================================
Points won by each set: | 26-17, 31-14, 36-23 |
Points won directly behind the serve:
45 % Becker – 32 of 71
26 % Edberg – 20 of 76
What puzzles me in the rivalry between Edberg & Becker, is exceptionally high number of breaks of serve (even on fast surfaces) despite that they both were tough to break generally speaking. It's really astonishing that in their 35 meetings, never happened either a deciding tie-break set or a scoreline like 7-6 7-6. In the Davis Cup 1989 occurred one of those many lopsided matches between them – Becker [2] was serving tremendously well, and Edberg [3] looked like a shadow of a man, who had recently defeated Becker in the Masters final… As Becker trashed Wilander on Sunday, the West Germans defended their title (they had defeated Sweden in the 1988 final as well), however, it was a dynamic period in German history – in November '89, so one month before the final, people began the deconstruction of the Berlin Wall which led to the reunification on 3 October 1990.
WEST GERMANY d. SWEDEN 3-2 in Schleyer Halle, Stuttgart, West Germany: Carpet (Indoor)
Mats Wilander (SWE) d. Carl-Uwe Steeb (GER) 5-7, 7-6(0), 6-7(4), 6-2, 6-3
Boris Becker (GER) d. Stefan Edberg (SWE) 6-2, 6-2, 6-4
Boris Becker / Eric Jelen (GER) d. Jan Gunnarsson / Anders Jarryd (SWE) 7-6(6), 6-4, 3-6, 6-7(4), 6-4
Boris Becker (GER) d. Mats Wilander (SWE) 6-2, 6-0, 6-2
Stefan Edberg (SWE) d. Carl-Uwe Steeb (GER) 6-2, 6-4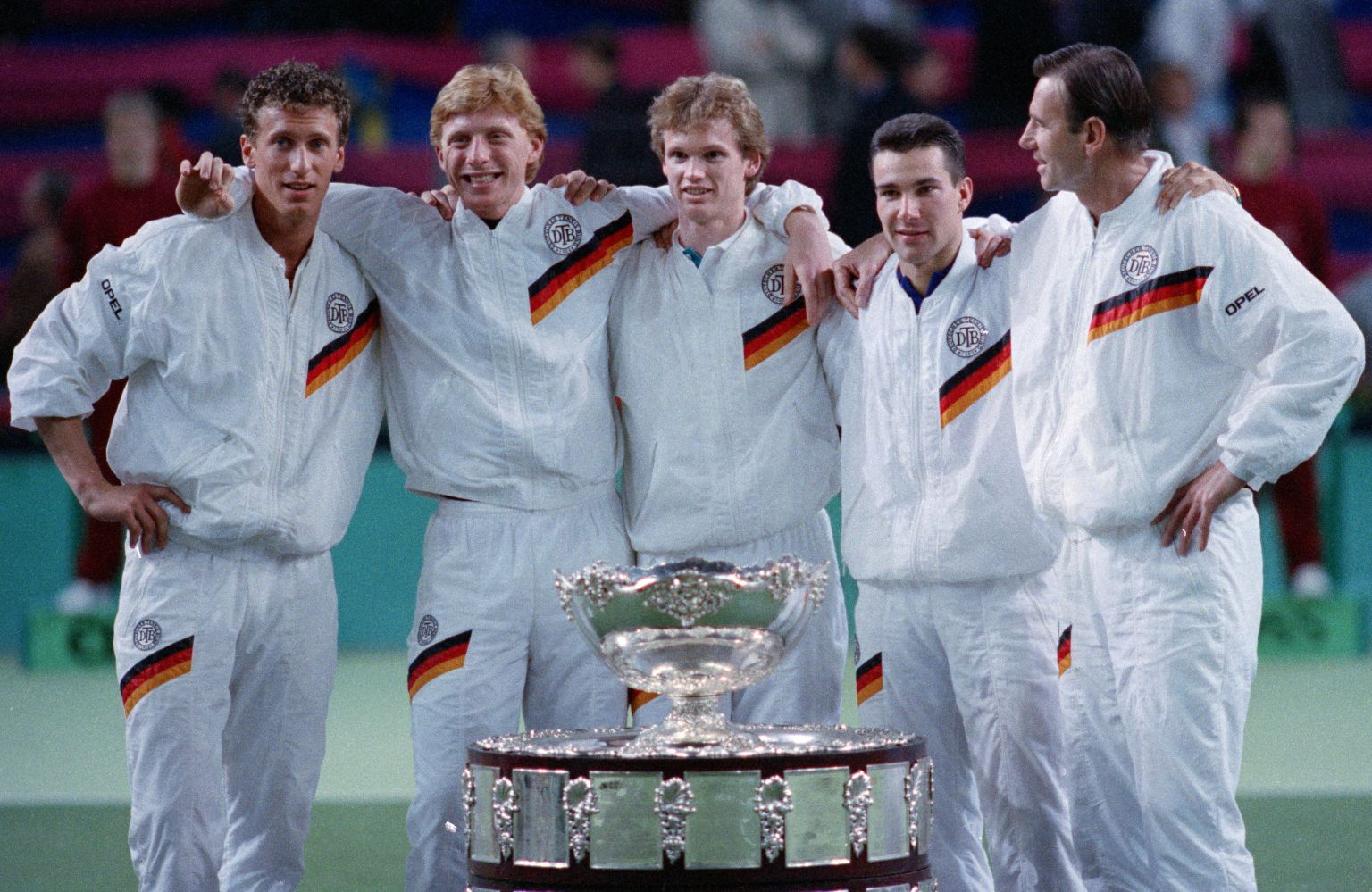 From left: Patrick Kuhnen, Boris Becker, Eric Jelen, Carl-Uwe Steeb and Nikki Pilic (captain)