Points won by each set: [ 32-25, 35-18, 25-9 ]
Points won directly behind the serve:
33 % Pouille – 19 of 57
20 % Darcis – 18 of 87
Darcis [76] became the Belgian hero in years 2015 & 2017 helping his small country in advancing to the Davis Cup finals. Especially the 2017 edition was magnificent for him because in the first round he stunned two higher ranked Germans (A.Zverev & Kohlschreiber) after dramatic matches, also won vital rubbers against Italy (QF) & Australia (SF). The demanding season cost him right elbow injury, regardless of that the Belgian captain Van Herck decided to appoint him in the final instead of trying with Ruben Bemelmans again (he played the 2015 final), and now we can say it was a bad decision – Darcis was destroyed in his two singles matches by players who are not known for their return skills (Tsonga & Pouille), winning in those two matches just 10 games. The injury aggravated and he didn't appear in the following season at all. His decisive match against Pouille [18] had good atmosphere until the Belgian held in the opening service game of the 2nd set after facing break point – since then he lost twelve straight games, it looked like an execution. "There's nothing more beautiful than winning as a team in front of my friends and family. Now we're going to celebrate and enjoy it," said Pouille, who was born 75km from the stadium in Lille (Hauts-de-France region). Similarly one-sided fifth rubbers in the Davis Cup finals also occurred in years 2010 & 2013.
FRANCE d. BELGIUM 3-2 at Stade Pierre Mauroy, Lille: Hard (indoor)
David Goffin (BEL) d. Lucas Pouille (FRA) 7-5, 6-3, 6-1
Jo-Wilfried Tsonga (FRA) d. Steve Darcis (BEL) 6-3, 6-2, 6-1
Richard Gasquet / Pierre Herbert (FRA) d. Ruben Bemelmans / Joris de Loore (BEL) 6-1, 3-6, 7-6(2), 6-4
David Goffin (BEL) d. Jo-Wilfried Tsonga (FRA) 7-6(5), 6-3, 6-2
Lucas Pouille (FRA) d. Steve Darcis (BEL) 6-3, 6-1, 6-0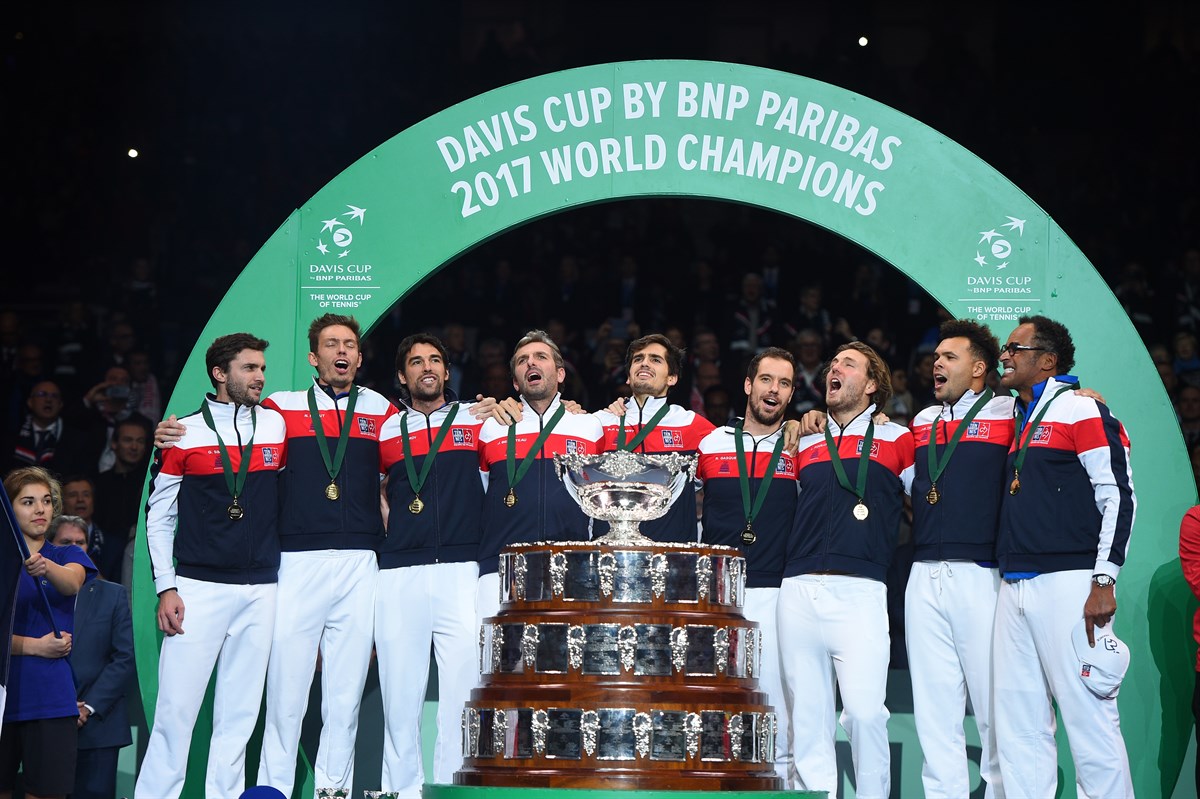 From left: Gilles Simon, Nicolas Mahut, Jeremy Chardy, Julien Benneteau, Pierre Herbert, Richard Gasquet, Lucas Pouille, Jo-Wilfried Tsonga & Yannick Noah (captain) – all those players contributed to the triumph defeating in sequence Japan (without Nishikori), Great Britain (without A.Murray), Serbia (without Djokovic) and Belgium.