Points won by each set: [ 50-46, 15-27, 36-40, 45-45, 51-44 ]
Points won directly on serve:
32 % Boetsch – 62 of 190
34 % Kulti – 72 of 209
Unbelievable match, one of the most dramatic ones as far as the most important are concerned. On day one of the final, Edberg injured his ankle and despite a 10-1 H2H over Boetsch (with huge difference in sets won), he withdrew from the deciding rubber. Replaced him the doubles player, Kulti, who had lost 9 of his last 11 matches. Kulti [64] had never won a set vs Boetsch [33] in their previous three meetings, and something what seemed like a routine three-set victory for the Frenchman, turned into a thriller in which Kulti could have even won five sets, but lost three of them. Kulti had never been considered a big server, but with his 191 cm he could rely on his serve, especially on fast surfaces. On that day, perhaps he enjoyed one of his career-best service performances, but it was in vain in the end. He'd been able to hold for more than 2.5 hours until he was broken at 1:2 in the 4th set (in the 3rd set he fought off nine break points in three different games). In the Open Era no-one has left the court as a loser in five sets being one point away from winning all lost sets, Kulti was quite close to achieve that feat in the most important match of his singles career. Here's description of his wasted chances:
1st set: Kulti led 5:4* (30-all) when Boetsch played a vicious smash, 6:5 (40/15) – the Frenchman responded with two service winners on set points
4th set: a mini-match point at 4-all and Boetsch saves it after 19-stroke rally with BH volley after hitting amazing defensive squash-like forehand during the rally… Kulti was three points away from victory at 5:6* in the tie-break
5th set: Kulti led 7:6* (40/0) after two straight forehand return winners, and missed his backhands on every match point – first in a 6-stroke rally, then returning Boetsch's serves
After a point lost for 3:5* in the 4th set tie-break, Kulti began to struggle with cramps, it bothered him throughout the decider (the most when he was broken the only time in that set), but he was holding firmly changing his tactics – he stopped frequent attacking the net directly behind the serve, trying to risk more with his first serves and ground-strokes.
Serve & volley: Boetsch 1/2, Kulti 14/28 FRANCE d. SWEDEN 3-2 in Massan Hall, Malmo, Sweden: Hard (Indoor)
Cedric Pioline (FRA) d. Stefan Edberg (SWE) 6-3, 6-4, 6-3
Thomas Enqvist (SWE) d. Arnaud Boetsch (FRA) 6-4, 6-3, 7-6(2)
Guy Forget / Guillaume Raoux (FRA) d. Jonas Bjorkman / Nicklas Kulti (SWE) 6-3, 1-6, 6-3, 6-3
Thomas Enqvist (SWE) d. Cedric Pioline (FRA) 3-6, 6-7(8), 6-4, 6-4, 9-7
Arnaud Boetsch (FRA) d. Nicklas Kulti (SWE) 7-6(2), 2-6, 4-6, 7-6(5), 10-8 – 3 m.p.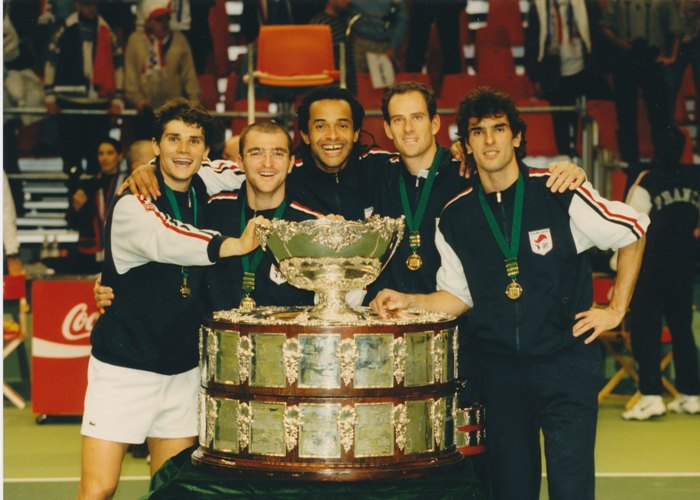 From left: Arnaud Boetsch, Guillaume Raoux, Yannick Noah (captain), Guy Forget & Cedric Pioline