Points won by each set: [ 39-44, 19-32, 36-30, 37-35, 29-20 ]
Points won directly behind the serve:
32 % Del Potro – 52 of 162
34 % Cilic – 55 of 159
With 4 hours 53 minutes, it's one of the longest Davis Cup final rubbers in history. There was a 7-minute break after the opener in which Cilic already led 3:0 winning twelve straight points. Cilic [6] was a bit closer to win in four sets than in three. At 4-all in the 4th set he was six points away at 'deuce' when the referee took away the first serve from Del Potro [38] due to time violation – the Argentinian fired then a service winner off the second serve with a speed of his average 1st serve (189 kph). The Croat began the decider with a break of serve, but lost his serve immediately, and another one trailing 3:4. Before this meeting, Del Potro had won 12 sets in a row against Cilic! En route to its first Davis Cup triumph, Argentina defeated Poland, Italy, Great Britain (defending champion) and Croatia.
ARGENTINA d. CROATIA 3-2: 'Arena Zagreb', Zagreb: Hard (indoor)
Marin Cilic (CRO) d. Federico Delbonis (ARG) 6-3, 7-5, 3-6, 1-6, 6-2
Juan Martin del Potro (ARG) d. Ivo Karlovic (CRO) 6-4, 6-7(6), 6-3, 7-5
Marin Cilic/Ivan Dodig (CRO) d. Juan Martin del Potro/Leonardo Mayer (ARG) 7-6(2), 7-6(4), 6-3
Juan Martin del Potro (ARG) d. Marin Cilic (CRO) 6-7(4), 2-6, 7-5, 6-4, 6-3
Federico Delbonis (ARG) d. Ivo Karlovic (CRO) 6-3, 6-4, 6-2
Comparison of two five-setters between them:
Australian Open 2010, 4th round: Cilic d. Del Potro 5-7, 6-4, 7-5, 5-7, 6-3… 4 hours 38 minutes… Total points: 181-173
Davis Cup 2016, the final: Del Potro d. Cilic 6-7, 2-6, 7-5, 6-4, 6-3… 4 hours 53 minutes… Total points: 160-161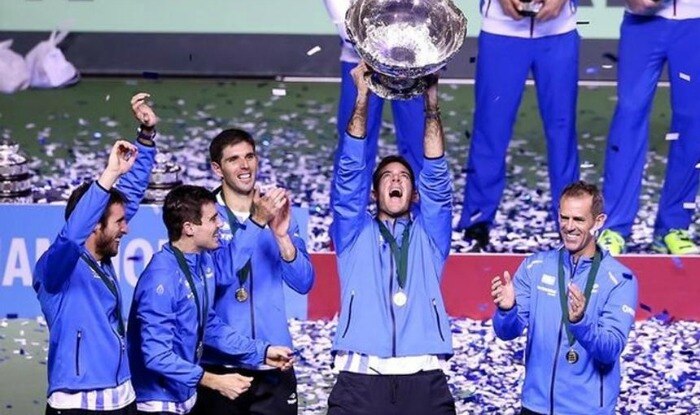 From left: Leonardo Mayer, Guido Pella, Federico Delbonis, Juan Martin del Potro & Daniel Orsanic (cpt.)