Points won by each set: | 25-36, 32-23, 28-33, 45-41, 33-17 |
Points won directly behind the serve:
31 % Hewitt – 46 of 147
22 % Ferrero – 38 of 166
Untypical rubber as a starter of the Davis Cup final because there faced each other top guys at the time – the best player in the world of years 2001-02 Hewitt [17], and Ferrero [3], who was at the top for a short time in 2003. It's a very important win to Hewitt's legacy, actually not only that match against Ferrero, but also a semifinal rubber against Federer… The year 2003 was very bitter for Hewitt. After two years of his domination on men's scene, he lost his great form in March '03, and after a series of failed appearances, he decided to entirely focus on the Davis Cup. Following the US Open (lost to Ferrero in QF) he played just three matches to the end of the season, all of them representing Australia, and notched two epic five-set victories: first in September against Federer, then two months later against Ferrero – both victories he enjoyed on the Rod Lever Arena – a place where he was disappointing himself & Aussie fans throughout his career playing at the Australian Open… Against Ferrero he was serving at 5:3 in the 4th set, but was broken to 'love'. He saved more energy after three hours of play, and since the beginning of the tie-break he overpowered his one year older opponent. The crucial point occurred at 1:0* for Hewitt in that blank tie-break, when he played amazing point in defence, and collected 11 consecutive points in total. Hewitt won 4 out of 6 games in the final set not dropping a point (he created break points in all Ferrero's four service games).
AUSTRALIA d. SPAIN 3-1 at Melbourne Park, Rod Laver Arena, Melbourne, Australia: Grass
Lleyton Hewitt (AUS) d. Juan Carlos Ferrero (ESP) 3-6, 6-3, 3-6, 7-6(0), 6-2
Carlos Moya (ESP) d. Mark Philippoussis (AUS) 6-4, 6-4, 4-6, 7-6(4)
Wayne Arthurs / Todd Woodbridge (AUS) d. Alex Corretja / Feliciano Lopez (ESP) 6-3, 6-1, 6-3
Mark Philippoussis (AUS) d. Juan C. Ferrero (ESP) 7-5, 6-3, 1-6, 2-6, 6-0
Lleyton Hewitt (AUS) vs Carlos Moya (ESP) unp.
Comparison of their two five-setters:
Shanghai 2002 (final): Hewitt d. Ferrero 7-5, 7-5, 2-6, 2-6, 6-4… 3 hours 51 minutes… Total points: 138-143… Ferrero 8 pts away
Davis Cup 2003 (final): Hewitt d. Ferrero 3-6, 6-3, 3-6, 7-6, 6-2… 3 hours 36 minutes… Total points: 163-150… Ferrero 7 pts away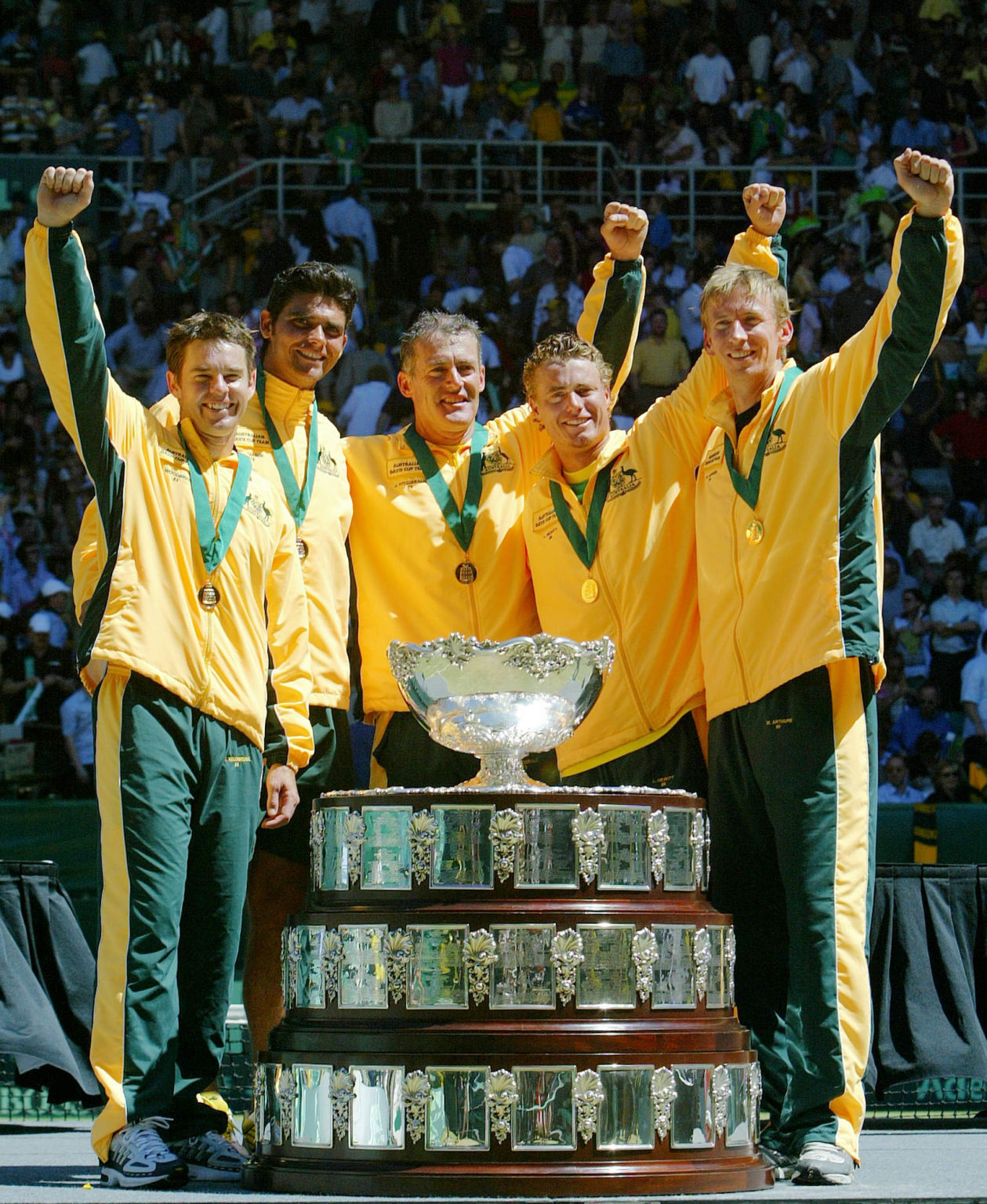 From left: Todd Woodbridge, Mark Philippoussis, John Fitzgerald (cpt.), Lleyton Hewitt, Wayne Arthurs