Points won by each set: [ 44-48, 47-39, 27-34, 33-25, 41-41… ]
Points won directly behind the serve:
17 % Norman – 34 of 195
23 % Gaudenzi – 44 of 184
Probably one of the five most dramatic, amazing matches I've seen for quarter of the century, concluded with the latest retirement as far as the Open era is concerned… Italy advanced to the final for the first time since 1980 mainly to Gaudenzi, who won his all four singles rubbers that year. In the semifinal vs USA, he suffered a right shoulder injury during the weekend, winning tough matches in both, singles & doubles. He had arthroscopic surgery on the shoulder the following week, but two months later returned for the Davis Cup final – his shoulder didn't sustain the five-hour thriller though, and he underwent another operation on December 6, 1998 which sidelined him for the first three months of the 1999 season.
1st set: Gaudenzi [52] comes back from *0:3, saves two set points in the tie-break (7:8* & 8:9 – Norman's FH errors)
2nd set: this time Norman [44] comes back from *0:3 (30-all) being three points away from a 0-2 deficit at 4:5 & 5:6… the Swede surprisingly played full "serve & volley" 'love' game at 2:3
3rd set: one break for Gaudenzi decides, earlier Norman led 3:2* (40/15)
4th set: one break decides again, Norman fights off break points in his two last service games… Gaudenzi felt big pain in his shoulder saving set point at 2:5
5th set: Norman leads 4:0* (30/15) and 5:3, but loses his patience in the meantime being aware of opponent's problems; Gaudenzi saves a match point at 4:5* with a forehand winner to lead 6:5 (!) – to get 11th game he serves an ace which causes unbearable pain in the shoulder; Norman quickly wins six straight points, and Gaudenzi feeling that cannot strike his 1st serve with a speed of his standard 2nd serve, retires in tears… a 7-minute medical time-out preceded the decider, Norman held for 5:3 after three 'deuces' attacking the net at every point!
Sweden defended the title, just like in 1997 Bjorkman mainly contributed to the triumph. The Swedes defeated respectively: Slovakia (trailing 0-2 on Friday), Germany, Spain & Italy.
SWEDEN d. ITALY 4-1 in Forum, Milan, Italy: Clay (Indoor)
Magnus Norman (SWE) d. Andrea Gaudenzi (ITA) 6-7(9), 7-6(0), 4-6, 6-3, 6-6 (30/0) ret.
Magnus Gustafsson (SWE) d. Davide Sanguinetti (ITA) 6-1, 6-4, 6-0
Jonas Bjorkman / Nicklas Kulti (SWE) d. Davide Sanguinetti / Diego Nargiso (ITA) 7-6(1), 6-1, 6-3
Magnus Gustafsson (SWE) d. Gianluca Pozzi (ITA) 6-4, 6-2
Diego Nargiso (ITA) d. Magnus Norman (SWE) 6-2, 6-3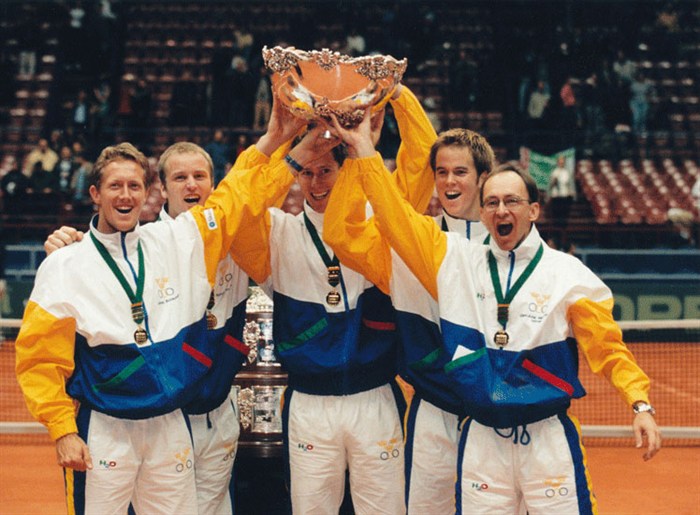 From left: Jonas Bjorkman, Magnus Gustafsson, Nicklas Kulti, Magnus Norman & Carl-Axel Hogeskog (captain)